I've designed books for myself and others since the mid-1980s. Bergsland Design book production has increasingly been the focus of my teaching, mentoring, and design work. My font designs are commonly font packages for book design. My textbooks and training manuals are directed at book production [or font design].
Bergsland Design book production: I specialize in complex designs for authors who need the power of InDesign but do not have the time or the inclination to learn the software. I thought I'd better give a basic idea of my charges to help you decide if my services can help.
On retainer, by quote, or by the hour
On retainer: I've simply served as a developmental resource for several authors on a simple month by month retainer basis. I answer any questions, do simple reviews with commentary during the writing of your book, and help with design ideas. This avoids any hourly charges.
By the hour: I try to keep my rates low. The industry standard is somewhere in the $60 to $150 per hour range. For hourly work, I charge $50 an hour for design work, production work, and consulting (extended email discussions, video discussions on Facetime or Skype, or webinar presentations). Consulting and presentation work varies widely and charges are negotiable.
Learning book production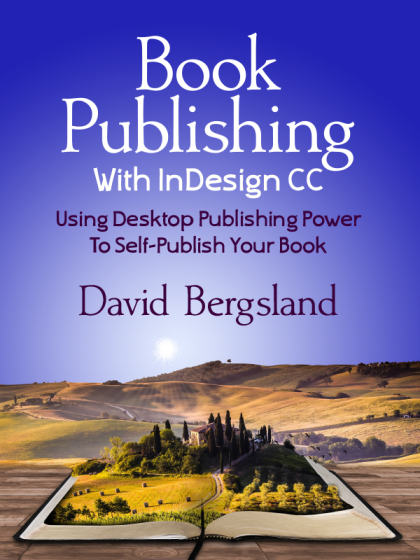 If you want to learn InDesign for yourself, currently my best explanation on the book production process is found in Book Publishing With InDesign CC. In it I share extensive teaching on typography and paragraph design. I cover the use of InDesign for graphic production and cover design. In addition, I share the procedures necessary to make professional conversions to ebooks: downloadable color PDFs, ePUBs, ePUB FXLs, Kindle books, and Kindle Textbooks [print replica].
Bergsland Design Book Production includes
By quote: My basic production charges include a PDF for a print version and three ebook formats: a downloadable PDF, a reflowable ePUB, and a Kindle version. In the basic package, uploading your book to your account on Createspace, Kindle KDP, Draft2Digital, and Gumroad is included. Smashwords is an extra charge because they are so fussy. My goal is to help you get published, so you receive all the royalties. I will mentor you through the process. I will give you a firm quote before work is begun. You will pay a non-refundable 50% down if you accept the quote. Once the downpayment is received, I'll start work.
Additionally, I can add an ePUB FXL version, a large print version, or whatever you need. If you are using Lightning Source, SnowFall Press, or any other book printer (on-demand or traditional) I can produce the artwork for you and upload it.
I began teaching digital print production in 1991 after I was the in-house art director of a large, full-color, commercial printer for 8 years. After developing an all-digital book production workflow in my curriculum, I created the materials to teach the process. Delmar Publishing gave me the opportunity to publish the first textbook on the all-digital print workflow in 1995. Since then I have been a very early adopter of Lulu, Createspace, Scribd, Kindle, Nook, Kobo, iBooks, and Gumroad.
Here are some posts about the process
Today, my first course of book production has been released. I'm building video coursework for using InDesign to produce books on Udemy starting with basic typography. Actually we start with the very beginning, where you must choose: Book size Margins Column … Continue reading →